Last Friday I took delivery of what is known in the sim racing community as an OSW (Open Sim Wheel).
It's a direct drive sim racing wheel motor and controller.
For comparison, my old Logitech G25 wheel puts out a maximum torque of ~3 Nm. This OSW with a MiGE servo motor puts out 20 Nm; enough to rip the wheel from your hands if you're not holding tight.
I got the kit from a former team mate who now has a business of selling them:
http://www.simracingbay.com/
The kit doesn't come with a wheel rim, so I'm using my Fanatec ClubSport Formula Rim I had converted to USB
earlier
.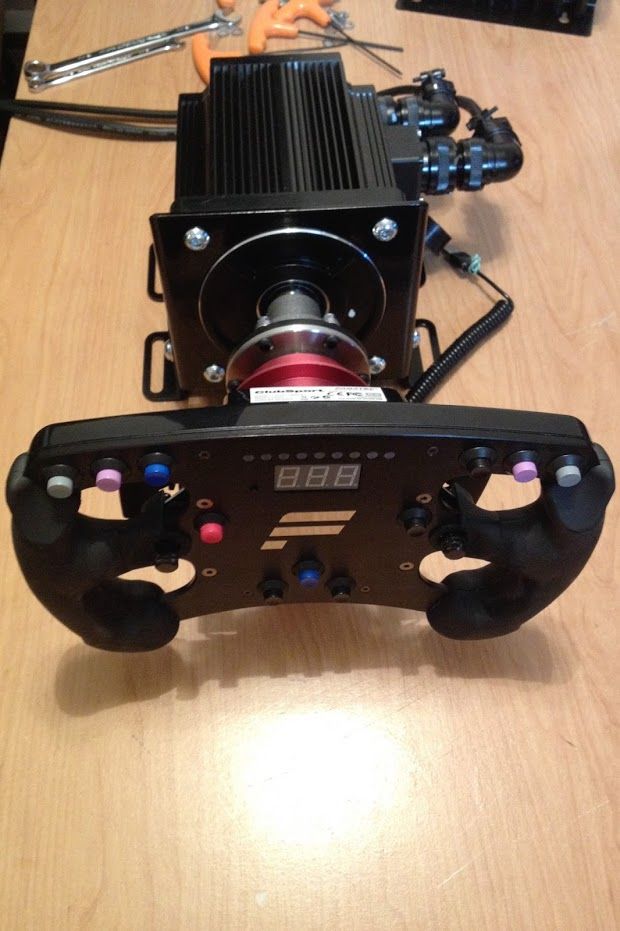 Out of the box, this wheel is STRONG. Way too strong... Like trying to turn the wheel of a stationary kart. And the feedback effects of curbs strikes or crashes nearly sprained my wrists.
But after spending some time tuning the settings, I got it toned down to a comfortable level of force.
So how does it compare? Well, since it's a direct drive motor, it's very immediate, detailed, powerful, and smooth. Conventional gear or belt driven sim wheels absorb some force feedback detail and have additional drive train mass and frictions for their motor to overcome. Not so with the MiGE.
I don't have many laps on it yet, but I'm already noticing an improvement in my consistency. The detailed force feedback gives me a better feeling as to what the car is doing underneath me and allows me to catch slides earlier and make less mistakes.
I'm pretty happy with the purchase and am sure this wheel setup will last me a lifetime of sim racing.