I came across this Arduino project on the iRacing forums and decided to give it a try. It looked like it would be a BIG help in any races that require a fuel stop.
iRacing Arduino Pit Board:
http://members.iracing.com/jforum/posts ... 26740.page
It has some similarities to iSpeed but has extra features which would make it worth the $20 in hardware.
After what felt like two months, I finally took delivery of my
Bandgood UNO & TFT display
.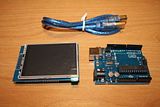 Plugged the display into the board.
Installed the libraries, uploaded the sketch, and stuffed it into the box it was shipped in.
Works great!